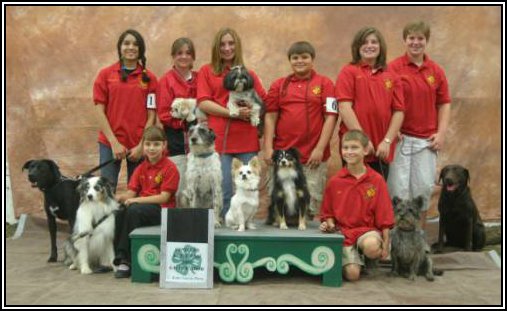 The 4-H Hardin County Paws
The Hardin County 4-H Paws Club
The objectives of the 4-H Hardin County Paws are to:
Develop leadership, initiative, self-reliance, sportsmanship, and other desirable traits of character.

Enhance canine science skills and knowledge.

Increase knowledge of basic safety in order to prevent injury to the animal or owner

To promote a greater love for animals and humane attitude toward them, to prevent cruelty toward all animals.

Be better prepared for citizenship responsibilities by working in groups and supporting Canine related activities and events.
Hardin County Cooperative Extension Service

Who can join 4-H?
Anyone from 9 to 19 can join 4-H. Hardin County has younger children involved in Clover Bud activities.
When 4-H began a hundred years ago, almost everyone lived on a farm. That's not true anymore.
4-H happens wherever kids live in large cities, small towns, in rural areas, on farms, and on military bases like Fort Knox!
The 4-H Pledge"I pledge
my HEAD to clearer thinking,
my HEART to greater loyalty,
my HANDS to larger service,
and my HEALTH to better living,
for my club, my community,
my country and my world."
The 4-H Colors – Green & White
White symbolizes purity & high ideals.
Green is nature's more abundant color and is emblematic of springtime, life, youth and growth.
4-H Motto
"To Make The Best Better"